So, we took a trip to Portland, Oregon this past weekend. I must say, I fell in love!!!!
I am a Cali gal raised through and through. I love the sunshine, the fashion and the glam. I have adapted to the traffic, the smog and the people, good and bad.
Portland had an appeal I was so drawn to. Perhaps it was going from the 90 degree, sandal wearing, jeans and t-shirt weather in October to 55 degree sock, scarf, hat and boot wearing weather that made the difference.
As soon as I got out of the airport, I first thing I noticed was the amazing multitude of colors in the trees. The cool breeze on my face and the sudden urge to drink warm cider was overwhelming. I suddenly found myself envying every Portland resident. It must be nice to walk out in the morning and feel the crunching of dried orange and red leaves under their boots. I would sacrifice raking leaves from my front yard every day to enjoy this.
We woke up and started our day with a calming bike ride along the Waterfront Park. It was full of dog walkers, families, runners and fellow bike riders. Life appeared simple. I did not see one person looking at their phone. No one taking selfies, no one snap chatting, no one "checking in". This was completely different to the 80% of people in every crowd of So Cal that would be glancing at their mobile devices. We paused and people watched, admired sail boats go by and realized we can see ourselves here someday and was already dreading leaving after the weekend.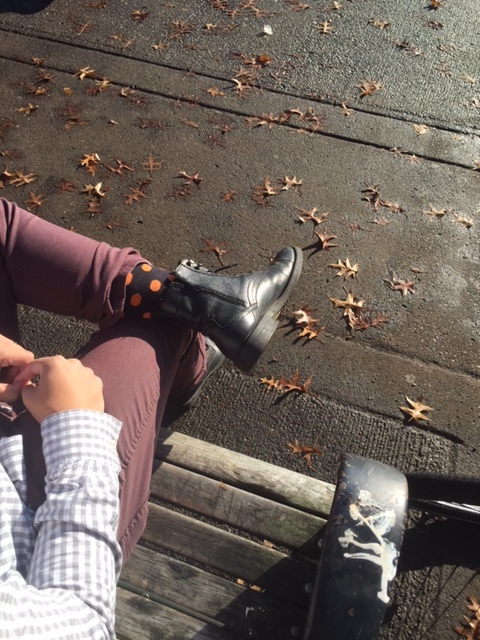 For the first time in a long time, it felt like fall. I love ❤️ how I was finally able to wear my blanket scarf, over the knee socks and boots. If it rained and allowed me to wear my rain boots I would've been as happy as a kid on Christmas morning. I probably won't get to wear my socksandi socks back home for another month when it starts to cool down.
We took our bikes and parked them by the waterfront so we could stroll the Portland Saturday Market. I tasted the best beef empanadas ever, tried their popular Elephant ears, bought some delish Cajun spices to marinate our wings next football 🏈 Sunday and scored on some unique artwork for our new office. I love farmer's markets and need to try to go on a more routine basis. There are always some good finds you just can't get from the mall stores.
We sat with our phones away, sipped on coffee, strolled by the famous Voodoo donuts, but saw the 1/2 mile line and decided put our warmly dressed feet to people watch instead.
So, interesting fact...Portland has a shared public bike 🚲 system. After returning to where we locked it, we discovered it was gone. A kind local enlightened us by informing us that unless we put a "hold" on the bike, another renter was free to take the bike using the universal code. Gives a whole new meaning to "sharing is caring".
Something unique to Portland are their food pods. Similar, to LA food trucks, trailers turned into portable eateries were lined along 2 blocks. We settled with lamb and beef Gyros, which were hands down the best we've ever had. Again, Portland wins! As for the overall, selection, nothing was offered that was extraordinary that jumped out at me that I have never tried in LA.
The simplicity of Portland was my favorite part. I loved how I wore the same comfy sweater, over the knee socks and boots all day while bike riding, shopping at the Market then to post lunch cocktails then to dinner in Downtown on a Saturday night without feeling overdressed or underdressed at any time. It was effortless. Although effortless, I still got glimpses of hip, casual, fun trends around some corners. There were even a couple of guys I could have stopped and told, how they would love our monthly sock subscription.
After dinner, we strolled along the brick sidewalks of Downtown, admired the unique and detailed buildings, enjoyed looking through windows of the closed stores, basked in the quietness, free from honking horns and blaring radios.
We stayed at the Nines hotel at the heart of Downtown. Although parking was pricey, we were close to enough shopping and places to eat that we didn't need to drive until we left the next day.
The rooms laid out in a way where the rooms faced inwards towards the lobby, restaurant and bar. Personally, I prefer the traditional hotel hallways which feel more private and having a view of the city rather than looking down at the lobby. The interior rooms were trendy and luxurious, but again, I would have rather chosen chic and comfortable.
After a long day of enjoying the city, we blissfully kicked off our shoes and thanked our cool socks for keeping us warm and comfortable all day.
Our socks can't wait to go back! Till next time Portland…